Hail LinkedIn!
Hail LinkedIn!
Honestly, after years of helping marketers with their Account Based Marketing efforts and after years of using LinkedIn.
I'm convinced that LinkedIn is tailor-made for account based marketers. If you use LinkedIn's dedicated involvement in marketing, you'll improve in your marketing efforts.
It is so so easy:
I can pick right accounts to go after
Target that audience with relevant content
Engage with the right decision makers
In addition to this, these numbers attracted me even more.
Have a look.
Kind of a dream come true 🦄
Wondering if you could use LinkedIn to influence high value accounts?Yes, you can and here's a detailed guide👇
I just skipped my meal to write this (sigh)
How about using LinkedIn in your marketing strategy?
Read till the very end to get the full gist of how this works.
1. Find the right target accounts
Prerequisite: You need to have your ICP clearly defined
(ICP → Ideal Customer Profile)
Once this essential first step is fulfilled, follow the others.
Well, not the other marketers, follow these 6 steps:
Use LinkedIn Search + Filters
Filter based on Location, Industry, Company size
Browse LinkedIn Company Pages
Research products/service offerings, culture and recent updates
Identify Key Decision Makers
See who works there & can influence buying decision. CEO, CMO, Head etc
Use Advanced People Search
Find accounts that match your criteria. Use filters title, location, and company
Use LinkedIn Sales Navigator
Scout the right people and make lists to better organize
Connect with Key Decision Makers
Send personalized connection requests. Explain why you want to connect.
No pitch-slapping here 😅
Before you get overwhelmed, let me show you how to do this (in pictures)
---
2. Target with relevant content
Did you know that a good messaging must have 3Rs?
Well, have a look at this before moving forward.
Just because you now have a specific set of target accounts, things don't automatically happen.
Create relevant content for these audiences.
Try to improve your content reach.
Here's a 3 step process that works
Observe activities & interactions
What topics do decision makers relate/respond to?
Poke your nose into what they're up to, be their distant CCTV camera on social.

Create content relevant to them
Now that you know them, let them know that.
Show them what they want to see.

Create visual content, ebooks, articles, videos that address the challenges and interests of your target accounts.
Post from your personal LinkedIn
Yeah, that can be a part of the strategy too.

Why personal LinkedIn?
Because buyers often like to interact with or put their trust in some individual rather than in some random virtual entity.

And hence, interactions happen naturally with personal accounts instead of company pages.
Set-up your LinkedIn Campaigns to align to Content Objectives
Your marketing efforts must not necessarily be focussed on sales sales sales but as LinkedIn marketing team and I would suggest, do not miss the opportunity to educate your prospects.
Curious?
Let me show you how we create content on LinkedIn
You can take insights from this and cook your own ABM recipe for LinkedIn.
Our target audience is B2B Marketers (you're most likely one)
We do podcasts on B2B Marketing & ABM regularly & share relevant clips
Do you know about our YouTube channel which is open for everyone to explore?
I'm sure there's something for everyone there. Podcasts, shorts, and a lot more.
Have a look at it here.
We share our point of view with original content on LinkedIn
And on the weekends, we make marketers laugh out loud (lol) with our original comic series - Marketing Tales
---
3. Engage with target accounts
Let me tell you one thing,
Creating content is not enough.
You will need to find accounts and pages in your niche, engage with their content, and make your presence visible. But all this in a personalized way.
Ideally, this is how
Engage with industry-relevant posts
Comment and share posts relevant to your industry. Share your opinion, appreciate them.

This is something that one of our clients asked:
"I like every post that my Target Accounts posts, yet they don't know me."

Liking posts is good but that does not make your presence visible. Why? Because many people would be liking it and you'd just be a number.

Engage with decision makers
Respond to the posts and comments of key decision makers.
Keep it relevant.
Don't overdo it 🚫.

Yes, Do not Overdo it. Keep it natural. Overdoing it can make the things go south and might create a negative impression on your Target accounts.

Here's how we do it…
Keep it short and sweet. It's not a blog, it's just a comment.
---
4. Participate in LinkedIn Groups
Although not a very high value thing to do (these days)
I've got to mention that this can be a useful ploy
---
5. Leverage LinkedIn product showcase

LinkedIn allows you to showcase your product.
Here's how we at Recotap ABM use this
Present your product/service

Write about your solution. Show how it helps your target audience. Make sure that you want to sell it. But also make sure that you don't oversell it.

Showcase customers & case studies

Talk about success stories that are very relatable to your target accounts. This helps build credibility of your product and organization.

---
6. LinkedIn Live Events
Educate your target audience by getting your customers to speak.
A social media platform may be virtual, but your business is real. So make it seem real.
Give faces to the names, structure to your clients and voice to their G2 reviews.
LinkedIn native events
Host Events or Webinars (Native)
Select topics that are most relevant for your target accounts.

Make sure that there's tons of knowledge sharing and there's something for everyone.
None of your prospects should go empty handed.

Nurture contacts
Make them feel noticed and welcomed.

Your main goal should be to let them know that their presence was valued, appreciated and noted.

Send thank you notes to users who attended your event. Tag them in posts related to the event you hosted.

---
7. Personalized Ads
This is a great way to grab attention.
With personalized ads, we consistently see a 30-43% lift in clicks when compared to non-personalized ads
The only word of caution I have here is this 🛑

This isn't a magic bullet and you'd have to give it the time it needs to work
(few months to build influence - depends on your sales cycle & seniority level you're targeting)
Personalized Targeted Ads
Use account-specific messaging and visuals
Measure results & optimize
Dig deep into analytics and determine clearly whether your ads are working
This is an example from one of Recotap's customers
Targeted Ads for Mc Donald's hiring team
And in a similar fashion, targeted ad for a tech company- Autozone.
So this was all about how to use JUST LINKEDIN while doing Account Based Marketing.
But
What if you can use some external tools along with LinkedIn and boost your ABM efforts even further?
What better than your marketing teams and sales teams using LinkedIn?
These tools work as catalysts to your LinkedIn strategies.
Here's a short list for you to consider.
Starting with the one that we've already talked about
Recotap

Not boasting but Recotap acts as a powerhouse for all your ABM efforts including LinkedIn ABM.

What all can you do on Recotap's app?

- Filter accounts
- Personalize ads based on the segregated accounts
- Track account behavior
- Update your ABM and personalization strategies based on account

LinkedIn Ad/Sales

LinkedIn Sales Navigator is a premium tool that gives you access to in-depth insights on companies and people.

Use Sales Navigator to identify and target key decision-makers at your target accounts, as well as to learn more about their interests and needs.

LinkedIn Sales Navigator is used by over 80% of Fortune 500 companies.

Engagement tool like Taplio

I started getting good long sleep after I came to know about such products to simplify my automation process.

As we all know that once we start making connections and start following accounts and people and groups on LinkedIn, it becomes difficult to keep a track of the ones who matter the most.

That's where tools like Taplio help us.

Create different segments of accounts based on your criteria, and surf through their linkedIn profiles and activities.

No other random posts, no random people, no random ads.
I think this should be enough for you to do ABM on LinkedIn.
Let me filter out some
Best Practices for LinkedIn ABM:
Roll out OG content like your views or comments on your business segment, reports, ebooks, etc. and make your presence visible and authoritative on LinkedIn.
Engage with messages, comments and your social media posts.
Use LinkedIn targeting and LinkedIn strategies to boost your marketing and sales efforts.
I do agree that Implementing large-scale marketing campaigns on LinkedIn can be difficult and a time consuming process.
But LinkedIn should be an integral part of your ABM program.

I personally ask my clients to make LinkedIn a part of their overall marketing efforts and see the result of combined power of marketing.
To have a bird's eye view of using LinkedIn for ABM- read my LinkedIn post on LinkedIn account targeting.
Some more case studies are here.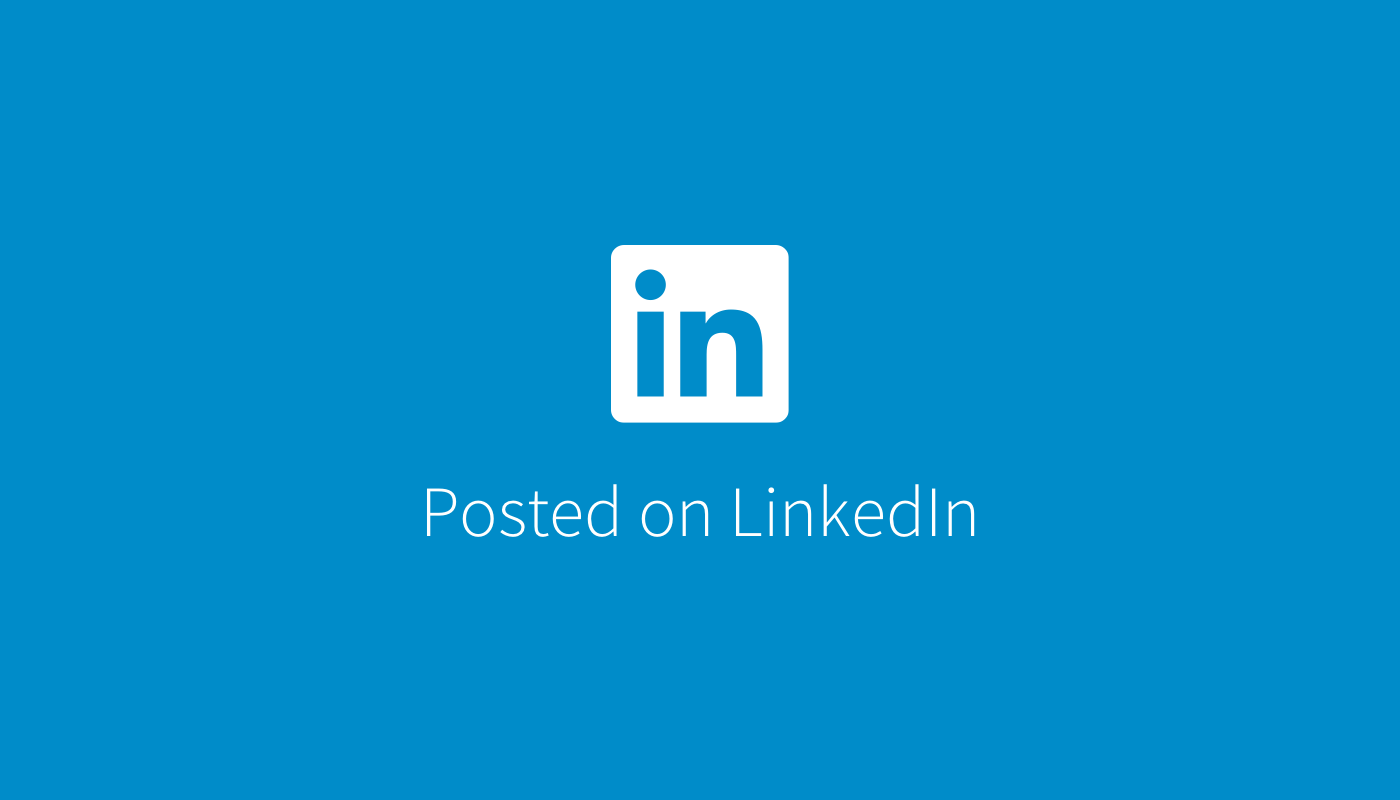 Hail LinkedIn!
If you want to know more about Account Based Marketing on LinkedIn,
Say Hi to me.
And if you want to see how you can Recotap's app to do it for you.